Pinup Passion 11pc Makeup Brush Set- The Review
July 04 2014
Many of you will already know about Pinup Passion, the release of the Makeup Brush Set and the Fabulous Sorelle Amore but for those of you who don't, I will give you a quick run down.
I first encountered Sorelle Amore with her beaming smile and energy approximately 4 years ago through her Facebook Page, Pinup Passion and soon after her entertaining youtube videos. Starting as very much a Pinup Appreciation page, it soon grew into so much more, a brand, an empire, encouraging all women to be confident and positive about their self image. Pinup Passion is Empowering women to embrace what was given to them and to be comfortable in being yourself. All things that I and Gwynnies strongly advocate. After following and learning from Sorelle for so long, I was so excited to hear she was venturing into branding products under the Pinup Passion label- excited for her AND excited to try! 
-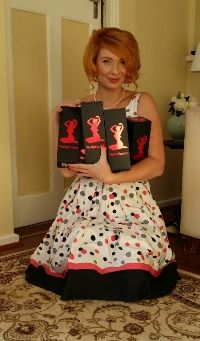 -
Pure excitement rushes through me when I get approved to stock new brands & products and The Pinup Passion 11 piece Makeup Brush Set was no exception! 
A Makeup Brush Set that is designed for the Pinup & Glamour Look, a tool for your every need to create that flawless starlet image in one set..... I want in!!
-
-
I myself like many of you have purchased many makeup brushes over the years spending way more than I wish to admit on brushes that promise the world and don't deliver. I had come to rely on a just a few that I felt happy with ....until now. 
When I first opened my package I was greeted with a gorgeous pinup silhouette on a satin black box. I'm a sucker for packaging and anything with a pinup on it so I was impressed before I had even discovered what was inside!
-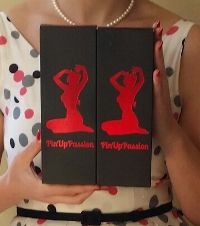 Open it up and you have a vibrant red faux leather tumbler but the case is just the cherry on the top, the real treat is what's inside! 
Inside is 11 high quality makeup brushes- all that you need, all that you could want, all together. 
So what do you get... 
*Stippling Foundation Brush
*Flat Foundation Brush
*Contour Brush
*Blush Brush
*Powder Brush
*Concealer Brush
*Eyebrow & Eyelash Comb
*Right Angled Brush
*Eyeshadow Brush
*Lipstick Brush
All the brushes are truly amazing! 
Here are all the pros...
*They're eco friendly with their sturdy glamorous black bamboo handles with the Pinup Passion Branding printed on them.
*Vegan friendly with their high density synthetic bristles and faux leather case
*The aluminum ferrule has been double crimped to prevent the bristle shedding
*A Great price and investment for 11 brushes,  you can easily pay the same amount for a single brush 
My Standout Favourites...
The Powder Brush- I love powder brushes and this one is so full and soft, it has a perfect diameter and it gives you a great even dusting 10/10
The Lip Brush- so I have never actually used a lip brush prior to this one, to be honest I've always been more of a gloss girl. This lip brush has changed that for good, with it's thin bristles I had a huge amount of control to create the perfect 'Cupids Bow' lips. And this little beauty is travel safe and comes with a cover so you can throw it in your purse with your favourite lippy and reapply as needed 10/10
The Right Angled Brush- WOW, get your purrrfect Cat Eyes here! You can tell a lot of time, effort and love has gone into this brush and time well spent! It glides your gel eyeliner on so smoothly and most importantly Accurately.  Also a great brush for Pinup  eyebrows to get those angles and arches just right 10/10
The Contouring Brush- I love contouring, its quite fun, it creates illusions and you can really re-shape your face.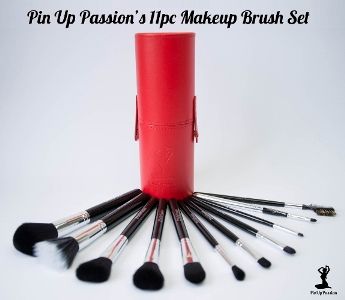 Anyone who purchases the Pinup Passion 11pc makeup Brush Set will be more than thrilled with the quality and performance of it's contents as I was.
No more itchy, scratchy brushes that leave bristles stuck to your face!
Lots of helpful Links below for more details including the Pinup Passion YouTube account and Facebook Page- Show Sorelle some love <3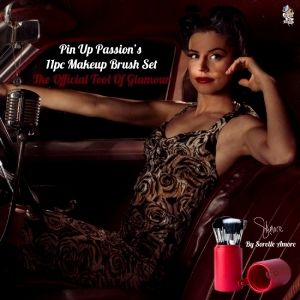 Shop here:
http://gwynnies.com.au/collections/beauty/products/pinup-passion-11pc-makeup-brush-set
Find Pinup Passion on facebook:
https://www.facebook.com/PinUpPassion/info
Find Gwynnies on facebook:
https://www.facebook.com/Gwynnies
Find Sorelle's YouTube Clip here:
http://www.youtube.com/user/PinUpPassion